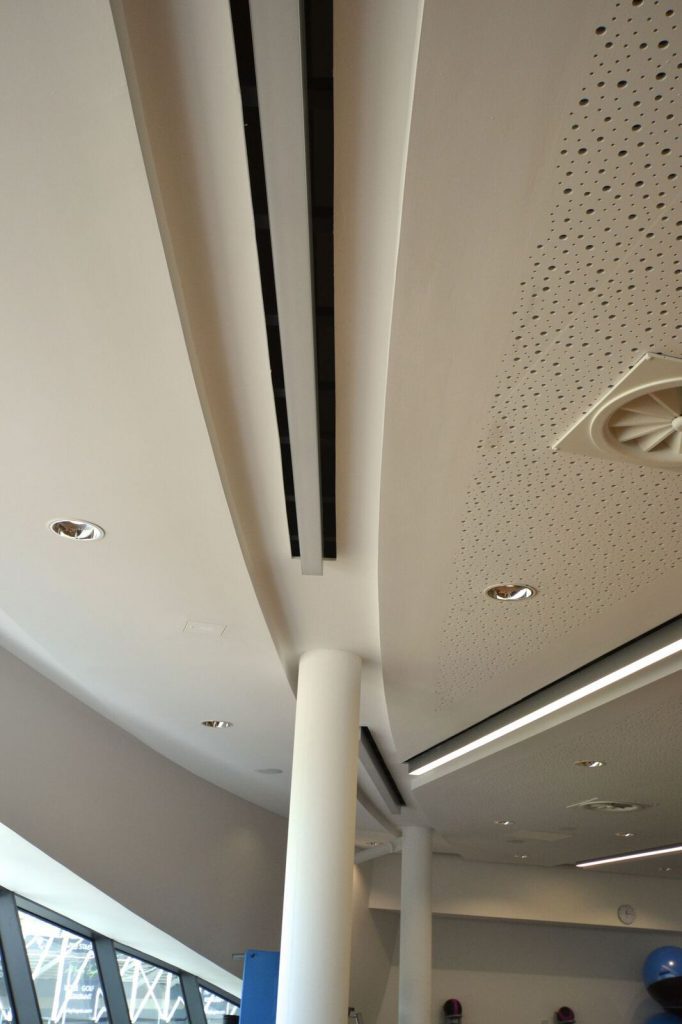 As one of the leading ceiling installation companies Birmingham, at Taylor Hart we have a full range of commercial ceiling types to fulfil your requirements. We offer a first-class service, no matter the size or scope of your project.
We are renowned for our expertise in commercial ceiling installation projects. We have been delivering our high standard of work for the last 19 years and, as such, our name has become synonymous with quality.
Established in 1998
Taylor Hart began working almost entirely in the demanding retail sector of construction in 1998. We concentrated largely on supplying suspended ceilings and drywall installation services across Birmingham and the West Midlands. Throughout the years our service offering has expanded to include a wider portfolio of interrelated trades.
Leading Ceiling Installation Company

The ability to use one contractor to carry a project through to completion is what makes us one of the leading ceiling installation companies Birmingham.

Our dedication and expertise has been acknowledged through a series of industry awards that demonstrates the high level of commitment we bring to every project.
Full Project Management
Whatever you require from your commercial ceiling project, we can help. We cover all parts of the process, from inception to execution, so you can get the ceiling that is right for you. Our experts will help advise you on the best drop down ceiling types for your project.
Expert Advice
The planning stage is one of the most important. So we make it our business to spend time listening to you to understand your project goals. By doing this, we ensure you get to explore the range of ceiling options available and can make informed decisions about the ideal type for your needs.
On Time & On Budget
By carefully exploring the options and discussing your requirements, you can also be sure that we will deliver on time and on budget.
It's this commitment to customer service that makes us one of the best ceiling installation companies Birmingham.
What Commercial Ceiling Installations Do Taylor Hart Offer?
Your specific commercial ceiling requirements will largely dictate what ceiling type is most suitable.

At Taylor Hart, we can provide mineral fibre ceilings or metal ceilings.

Mineral Fibre Ceilings
Mineral fibre ceilings have become more or less the standard choice for offices and schools across the country.

Offering excellent consistency of style, durability, superb soundproofing and acoustic control, they are an ideal choice.

Furthermore, Mineral Fibre Ceilings offer ease of installation and excellent fire protection.
Attractive and Practical

Mineral fibre ceilings are made up of individual fibre panels that fit together providing an attractive and practical ceiling surface. Their durability means they can handle all sorts of components such as lighting, air con units and all kinds of electrical and mechanical additions which may need to be fixed to a ceiling.
Metal Ceilings
Metal Ceilings are ideal for large-scale building and where the design aesthetic may be more ambitious. They deliver the perfect combination of structural integrity, durability, reliability and flexibility.

While most clients need something practical and simple, our metal ceilings are increasingly being used on projects which require more flair. Because metal sheets can be heated and made malleable, our metal ceilings are perfect for creating dramatic waves, curls, twists and turns, giving them the advantage in flexibility of design.
Highest Standard
Our metal ceilings are always made to the highest standard so that our clients can have beautiful design that is strong and safe. As one of the leading ceiling installation companies Birmingham, clients can trust our ceilings will remain in excellent condition for many years to come.
Highest Specification

Whatever commercial ceiling type you choose, when you use Taylor Hart you can be assured that you are getting the best possible product and service available. When you appoint us as your commercial ceiling installation company, you know that your ceiling and installation will be of the highest specification. We take great pride in our work to achieve our client's specifications, no matter how big or small the project may be.


Use Taylor Hart, use the best.
To discover how we could help you with your construction project, get further information, a free project estimate or a consultant call or visit, please call us on 01676 522422.  
You may also like to read our previous blog on Partitions and Ceilings – 3 Questions To Ask When Choosing Your Contractor.