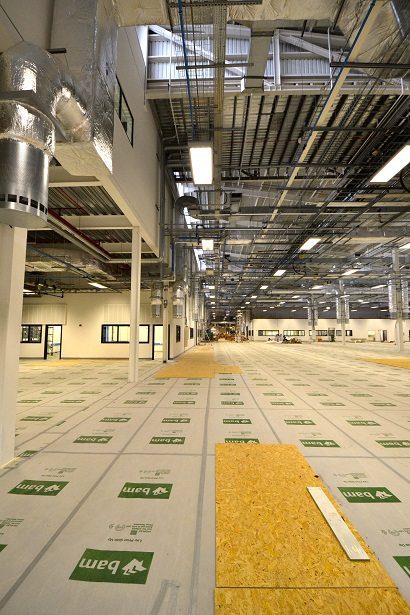 Every commercial building needs an excellent ceiling to complete it, and who better to provide you with first-class commercial ceiling contractors than Taylor Hart. We pride ourselves on our personal service and thoughtful approach to projects, so together we can bring you the best commercial ceilings for your project.
Our commercial ceiling contractors will be able to bring you the latest in suspended ceiling technology. We work with full commitment from the inception of a project, right through to the installation. We offer ceilings in a variety of materials, including metal and mineral fibre.
Metal ceilings are commonly used in large scale commercial buildings. Metal ceilings give fantastic results as they combine versatility with strength. Due to the malleable nature of the material, it can be cut, bent, or formed into a huge range of different shapes meaning that however artistically ambitious your project may be our commercial ceiling contractors can design and install the ceiling that you want.
Interior office spaces usually use mineral fibre ceilings, as these perfectly match the requirements for your office place ceiling. Mineral fibre provides a safe, sound-controlling solution to your needs. Office spaces require a uniform look and feel to embody their corporate style. Mineral fibre fulfils this need, as well as providing an approved safety material. Their soundproofing properties are ideal for an office environment. Due to the versatility of mineral fibre it can be manufactured in a range of colours and fitted swiftly by our ceiling installers.
Taylor Hart for commercial ceiling contractors you can rely on.
At Taylor Hart we do our utmost to maintain a first rate service at all times. We consistently listen to our clients' requirements and remain focused and in communication throughout the duration of the project. With nearly 20 years' experience behind us we have a wealth of knowledge to help us provide the best service to our clients. With our non-aggressive approach to contracting we maintain a high level of professionalism at all times, which is reflected throughout our highly skilled workforce.
To discuss your requirements for commercial ceiling contractors and discover how Taylor Hart can help you to achieve the perfect outcome to your commercial building project, please contact us today. You can request further information, a free project estimate, or arrange a consultant call or visit. Please call 01676 522422 or visit our website at www.taylorhart.co.uk. Alternatively, you can take a look at our previous blog post on partitions and ceilings.