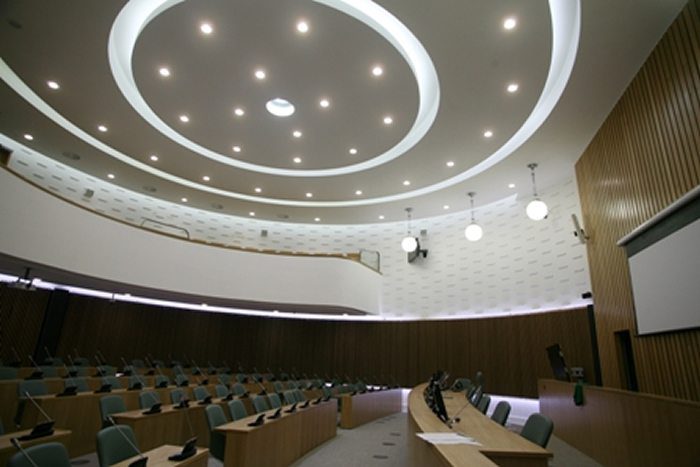 At Taylor Hart we have a full range of commercial ceiling types to fulfil your every requirement. No matter what the size and scope of your project we can provide a ceiling to suit you. When you come to Taylor Hart you are accessing the years of knowledge that we bring to every project that we undertake. Whatever you desire from your commercial ceiling, we will be able to help with design and install the ideal ceiling for you.
At Taylor Hart we have an extensive range of commercial ceiling types to suit different building requirements. From metal to mineral fibre ceilings we will be able to help with your design and install the best ceiling for your building. When you choose Taylor Hart for your commercial ceiling you can rest assured that your ceiling will be delivered on time and in budget to an exceptionally high standard.
Metal ceilings are the ideal solution for large-scale buildings. They deliver a perfect combination of structural integrity combined with flexibility and long lasting reliability. Metal is malleable so can be styled into any shape that you require. This allows for ambitious designs to be turned into reality. This means that your design can extend to the ceiling of your building, while the overriding structure still remains strong and safe. Our metal ceilings are always built to the highest of safety standards so that you can have beautiful design combined with safety and you can be confident that your ceiling will remain in excellent condition for years to come.
Commercial ceiling types from Taylor Hart for every building
If metal ceilings are not the right solution for your building needs, we also offer mineral fibre ceilings as one of our other commercial ceiling types. Mineral fibre ceilings are a perfect choice for office spaces where ease of installation, combined with consistency are major considerations. With our mineral fibre ceiling you know that the latest fire safety comes as standard, and that the soundproofing and acoustic control will be to the highest specification, as you would expect from Taylor Hart.
To discuss how our commercial ceiling types can provide you with an ideal solution and how Taylor Hart can help you to achieve the perfect outcome to your commercial building project or home based project, please contact us today. You can request further information, a free project estimate, or a consultant call or visit. Please call 01676 522422 or visit our website. You can also visit our previous blog update on commercial ceiling contractors to find out more.