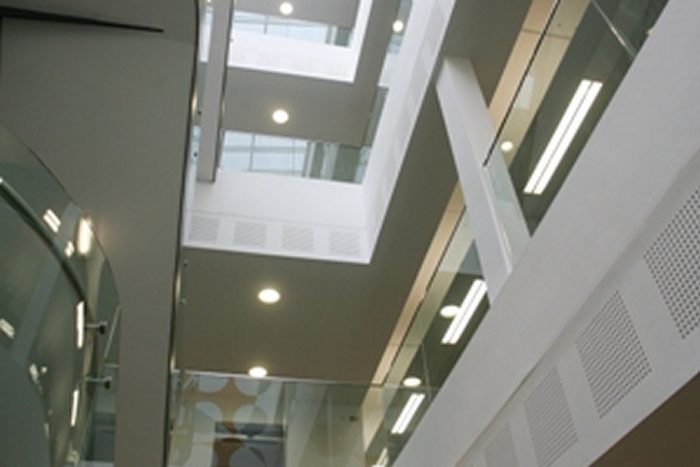 Mineral fibre ceilings offer economic solutions to a range of building requirements and are increasingly used in commercial buildings – and Taylor Hart are experts in installing them.
When you're driving on the M5 towards Junction 1 for West Bromwich, one of the most striking landmarks you'll see is Sandwell College. The huge building with its unmistakable sloping roof is a symbol of the regeneration of the town in recent years.
The College, in the heart of the West Bromwich, just by the Metro line, has become a vibrant place for learning, and something that we at Taylor Hart Ltd look at with pride, knowing the crucial role that the business played in its construction.
Taylor Hart was commissioned by Sandwell Council to install the mineral fibre ceiling in the college.
Mineral Fibre Ceiling Projects
Mineral fibre ceilings are often installed in buildings such as this as well as commercial office developments, and are popular because they provide an economic solution to a range of building requirements, including fire resistance, acoustic performance and heating control. They also support air conditioning, lighting and other services.
This was the first project that Taylor Hart worked on with Mark Green, senior project manager at Interserve Construction, and in more than six years since then the relationship has grown and strengthened. "Since that time they are the only contractor that I have worked with on partitions, ceilings and fire protection," he said. "Together we have successfully completed three very large, challenging and complex projects, delivering safely to our mutual clients' time, cost and quality expectations.
"In my dealings with Taylor Hart as a company and on an individual basis, I have found them easy to work with and when the pressure is on, importantly for me they are dependable, to the point where I consider them a safe pair of hands."
This shows how Taylor Hart works – we deliver on time, on cost and to a high quality. Service is our number one priority and we are totally committed to a project once we have been appointed. We have a range of accreditation, from Investors in People to ISO 14001 and Green Deal PAS2030 Certificate.
If you are interested in Taylor Hart's mineral fibre ceilings, please contact us on 01676 522422.
For information on the range of services and products we provide, including structural stud, partitions and drylinings, screeding and rendering, visit our website. Visit our previous blog update to read information on Taylor Hart as plastering experts.