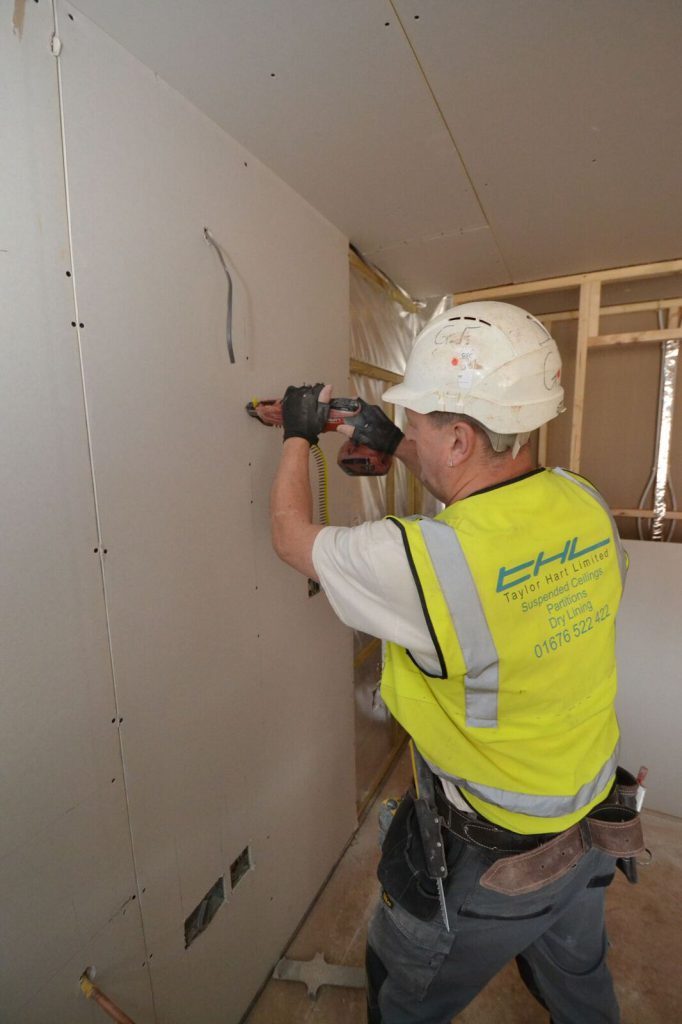 Construction interiors contractors, Taylor Hart Limited, are nearing completion of their part to play in helping to construct the new HSBC British retail headquarters. Located in Birmingham city centre, the project represents the West Midlands based firm's biggest ever contract, at more than £5m in value. Taylor Hart were appointed construction interiors contractors to the flagship development. The 210,000 sq ft, 10 story building, originally called 2 Arena Central, was recently renamed 1 Centenary Square.
Key Commercial Development for Birmingham
The new headquarters are located within the 9.2 acre Arena Central development, adjacent to Centenary Square and the Library of Birmingham. Framed by Broad Street, Holiday Street, Bridge Street and Suffolk Street Queensway, the building forms part of this key commercial development for Birmingham. The bank has roots in the city, from its takeover of Midland Bank back in 1992.
LEED Gold Accreditation
HSBC's new building will accommodate up to 2,500 people and will be the first in Birmingham to be constructed to LEED (Leadership in Environmental and Energy Design) Gold accreditation.
Innovative Approach
Not only are Taylor Hart, as construction interiors contractors, delighted to be able to work on such a green focused project but are excited to contribute to one that has really taken an innovative approach to designing a work space. It's clear that considerations have been made about the impact of aesthetics on happiness and wellbeing and the new headquarters, which will be one of Birmingham's most greenest and innovative buildings, are set to be anything but your typical banking working place.
Modern Design
HSBC have consulted with current employees about the design, which will include different spaces for staff to collaborate and socialise in. Working spaces are built around an 'open work' principle too, in order to foster a non-hierarchical culture.
Taylor Hart's involvement as construction interiors contractors to the project will mean a high end finish.
Initially contracted to carry out base core Category A works to the value of more than £2.5m, Taylor Hart were soon also asked to fit out the building, adding approximately another £2.5m on to the total contract value. That meant the project was the company's largest ever.
Ceiling Installation Experts
The fit out work Taylor Hart are supplying includes acoustic suspended ceilings, bespoke bronze metal ceilings, drywall linings and partitions, specialist timber ceilings, ceiling void fire and acoustic barriers.
The high grade finish will reflect both the Hong Kong and New York branch headquarters of HSBC.
The topping out of the building back in May, which marked completion of the building's framework to its highest point, noted by the pouring of the final section of concrete on the building's 10th floor, has meant since then works have focused on finishing the facade, installing glazing to make the building watertight, and completing the interiors.
The building is due to be handed over to HSBC in the coming months, with the company taking occupancy from 2018.
Contact Us Today
To find out more about the construction interiors contractors services from Taylor Hart Limited, call us today on 01676 522422.
You may also like to read our previous blog post on Partitions and Ceilings – 3 Questions To Ask When Choosing Your Contractor.