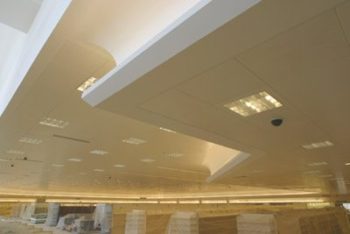 If you are looking for drop down ceiling installation West Midlands, then look no further than Taylor Hart.
Taylor Hart are renowned for the first class service that they bring to all the jobs that they undertake.
Their dedication and passion has been recognised with a series of industry awards that reflects the high level of commitment that Taylor Hart bring to every project.
At Taylor Hart we provide a range of ceiling installation solutions to suit your needs. We can provide mineral fibre ceilings, or metal ceilings depending upon your commercial ceiling requirements in the West Midlands.
We spend time listening to our clients and understanding their project goals, so that when we carry out drop down ceiling installation West Midlands, you can be sure that we will deliver on time and on budget.
Our design processes ensure that your ceiling will follow the overall look and feel of the building, thereby maintaining the continuity of design throughout your building.
Drop Down Ceiling Installation West Midlands – Taylor Hart Brings First Class Quality
Our suspended ceiling contractors have received awards that reflect the service that they offer.
Jon Miller, a Taylor Hart fixer, recently received the coveted "Quality Operative of the Month" award.
With Taylor Hart also coming top of the Contractor's Site Safety League Table March 17, as run by Interserve.
This means that when you choose Taylor Hart as your ceiling installation experts, you can rest assured that not only will you receive a first rate service, but that this service will be reinforced by a high standard of health and safety.
Whether you are looking for a drop down ceiling installation in Birmingham or throughout the West Midlands, Taylor Hart will be able to provide you with the solution to your commercial building project.
With nearly 20 years' experience in the building industry, Taylor Hart brings that accumulated knowledge to every project they undertake.
To discuss how our drop down ceiling installation West Midlands can provide you with an ideal solution to your ceiling needs and how Taylor Hart can help you to achieve the perfect outcome to your commercial building project or home based project, please contact us today.
You can request further information, a free project estimate, or a consultant call or visit. Please call 01676 522422.
You may also like to read our previous blog on how, as one of the UK's leading dry lining contractors, we have exclusive UK use on the Flextos Supercut XPM.