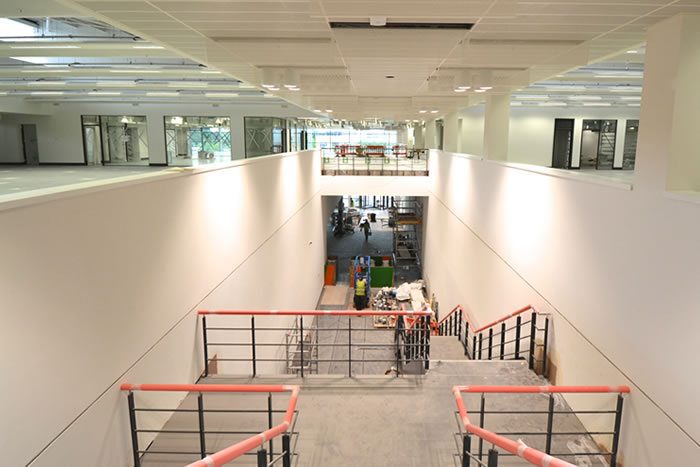 DryLining Experts
Taylor Hart are drylining experts. Drylining, put simply, is a way of lining an interior wall such that it won't need two coat
plastering. It involves covering a background surface with a plaster substitute instead, such as plasterboard or another board material.
Depending on the specific type of installation and application, insulating properties can be achieved by fitting insulation into the cavity created between studs when lining to timber or metal studs, or even glued to the back of the plasterboard. In some cases, an integral vapour layer can be fitted to the plasterboard.
Different forms of drylining can be used to achieve certain acoustic, thermal and fire safety requirements, all with very different properties to suit your own specific type of use. For example, some forms of drylining have excellent robustness, protecting them against knocks and scrapes which otherwise might cause damage to the wall surface. Some forms of material are also renowned for their protection against moisture, which can be used in environments where high moisture levels are likely.
As drylining experts we are highly experienced and well renowned within the drylining industry, having been awarded the contract to supply drylining for Center Parcs' new resort at Woburn Forest, Bedfordshire. Our brief was to construct dry walls and ceilings in their leisure centres and hotel spa areas, as well as a two-storey SFS building with internal finishings.
And that's not the only large contract we've been awarded, either. We've provided contract work for Waitrose, Sandwell College, Balfour Beatty and the Snow Hill office development in Birmingham, amongst many others. Formed in 1998, we have almost twenty years of experience in the industry, having begun by working almost exclusively in the retail sector of construction — a highly demanding area, which laid the foundations for Taylor Hart to become one of the leading drywall installation companies in the region.
A
s drylining experts we are proud to have won a number of awards and accreditations, including the AIS Gold Award in 2014 and ISO 9001 and 14001