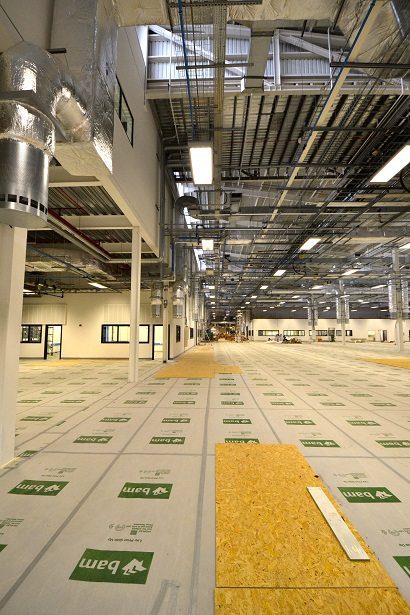 Taylor Hart Ltd, metal ceiling installers, offer a multitude of interrelated trades to both the commercial and domestic sector.  Established in 1998 and via acquisition and growing expertise, we are best placed to provide a holistic approach to our clients' needs, thus offering cost effective solutions to building designers, architects and contractors.  Our professional team pride themselves on their customer service and commitment to each individual project, bringing together a wealth of experience to ensure complete customer satisfaction.
Metal Ceiling Installers to the commercial sector – Taylor Hart Ltd
Metal ceilings offer the perfect solution to most commercial building projects, from offices and supermarkets to retail developments.  Adaptable and stylish, metal ceilings can be formed to any shape and be curved or waved, creating clean lines and incorporating gradients and changes in height.  Canopies, for instance, are ideal for reception areas and open spaces and can incorporate lighting options to suit the environment.
Our metal framing system is compatible with a wide range of lining solutions, and variable acoustic and fire resistance elements; with inspection and access points easily included at the point of design or installation.  We are able to provide a variety of grid systems and colours together with mineral fibre, metal acoustic or laminated plasterboard ceiling tiles. As metal ceiling installers, together with the correct acoustics and lighting, we can create the perfect space for your needs.
Taylor Hart would welcome the opportunity of becoming your preferred metal ceilings installer, so please call us on 01676 522422 to discuss your requirements.  We are happy to answer any queries that you may have with regard to metal ceilings or any other product within our range.  Our team of metal ceiling installers look forward to hearing from you and are confident that you will find the quality of product, service and attention to detail second to none. Our previous blog update was about Mineral Fibre Ceilings, if you're interested check it out.