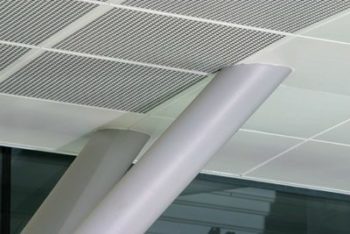 Taylor Hart Ltd, mineral fibre ceiling experts, offer a multitude of interrelated trades to both the commercial and domestic sector.  Established in 1998 and via acquisition and growing expertise, we are best placed to provide a holistic approach to our clients' needs, thus offering cost effective solutions to building designers, architects and contractors.  Our professional team pride themselves in their customer service and commitment to each individual project, bringing together a wealth of experience to ensure complete customer satisfaction.
Contemporary Spaces, Beautifully Designed – Mineral Fibre Ceiling Experts
With a wealth of experience and expertise at its fingertips, Taylor Hart and its team of mineral fibre ceiling experts are able to provide its clients with beautifully designed spaces, ensuring consistency throughout the building and a space that meets its clients' specific needs in terms of functionality, acoustics and visual aesthetics.
Whatever the building, from schools to offices, mineral fibre ceilings have formed an integral part of the fabric of buildings in the UK for decades.  Incorporating components such as lighting or air conditioning, these strong, hard wearing ceilings, made from individual fibre panels, can accommodate additions to its structure, whilst still maintaining an attractive, contemporary surface.
Our products are available to meet varying budgets and feature sound absorption and blocking qualities for use in busy areas.  With fire safety paramount, our flame retardant mineral fibre ceilings offer passive fire protection, whilst still offering a visually pleasing ceiling in a variety of colours and textures.
Taylor Hart would welcome the opportunity of becoming your preferred mineral fibre ceiling expert, so please call us on 01676 522422 to discuss your requirements; we are happy to answer any queries that you may have with regard to mineral fibre ceiling products or any other product within our range. You can also visit our previous blog update on Structural Stud Installers to see what else Taylor Hart Ltd has to offer.
Our team of mineral fibre ceiling experts look forward to hearing from you and are confident that you will find the quality of product, service and attention to detail second to none.