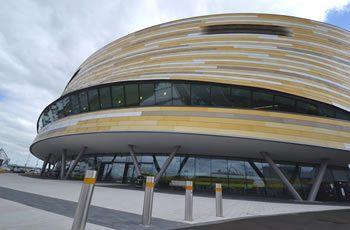 Whether a home owner or a commercial client, Taylor Hart Plastering Services team will ensure that your project receives quality customer service and attention to detail from inception to installation.  West Midlands based and serving a national client base since 1998, our projects range from large scale commercial projects to housing developments and domestic clients; each project as individual as you.
Plastering Services by Taylor Hart Ltd – The Benefits of Thistle Plasters 
Our plastering services experts use Thistle Hardwall, a wet plaster, gypsum based undercoat plaster.  It can be used on most masonry and sand or cement undercoats.  Our plastering services team favour the quick surface drying qualities of Thistle Multifinish which provides an inert, smooth texture for decorative finishes.
Given the recent price sensitivities of the British market and rise in steel prices, more often than not, we find that our clients are steering toward increased use of blockwork, thus resulting in our use of two coat plaster in favour of a drywall system.  With this in mind, and always cognisant of recommending a finish that suits the elements of your design, our plastering services team ensure that the Thistle range of products meets its customers' needs; our two coat plasters are resistant to damage and offer extended durability, thus reducing overall cost over a lifetime.  Whist plaster can provide a base for a myriad of decorative finishes, it also enables efficient heat transfer throughout the building and enhances airtightness in masonry walls, offering a good seal around openings, with added fire resistance and sound proofing qualities.
Taylor Hart would welcome the opportunity of discussing your specific project, so please call us on 01676 522422; we are happy to answer any queries that you may have with regard to our plastering services or any other product or service within our range. We look forward to hearing from you and are confident that you will find the quality of product, service and attention to detail second to none. You can also visit our previous blog update on Glass Reinforced Gypsum Specialists or our website for more information.