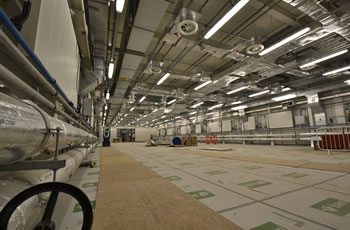 Taylor Hart is a leading provider for your screed floor in Birmingham. With our wealth of knowledge we are ideally placed to fulfil your project requirements and deliver the screed floor that you desire. With Taylor Hart you are safe in the knowledge that your screed flooring will be to the highest standard and delivered in a professional and timely manner.
At Taylor Hart we can offer a range of different screed floor for Birmingham and surrounding areas. Dependent on your unique requirements our various screed floors will suit your diverse needs. From traditional floor screed, to fibre screed through to flow screed, there is a solution for every issue that you may be facing.
Traditional screeding provides an excellent cement dispersion throughout which in turn gives greater and more uniform strength. It is workable for up to 12 hours and flexible for a variety of different bases. Our screeding in the UK meets all the BSI standards as well as the rigorous European regulations. So when you come to Taylor Hart you can be assured that your screed floor is to the highest of safety standards.
For those whose screed floor in Birmingham is needed in a timely manner, we would recommend our flow screed. Flow screed is an innovative development and allows screed to be laid 10 to 20 times faster than standard screeding. It also has the capability to receive foot traffic after only 36 hours. This impressively quick service means that your flooring can be completed with minimal disruption to your schedule.
Taylor Hart for all your needs – screed floor in Birmingham
At Taylor Hart we also have fibre screed available, which can help prevent cracking in situations where the flooring is placed under greater stresses. When you come to Taylor Hart we will take the time to listen to your flooring requirements, and understand the challenges facing you. We bring our knowledge to every project that we undertake to ensure that the flooring we decide on for your building is the ideal solution for your requirements.
To discuss how our screed flooring can provide you with an ideal solution to your flooring concerns and how Taylor Hart can help you to achieve the perfect outcome to your commercial building project or home based project, please contact us today. You can request further information, a free project estimate, or a consultant call or visit. Please call 01676 522422 or visit our website. Furthermore, you could take a look at our previous blog update on fibre screed to check out the other products Taylor Hart has to offer.