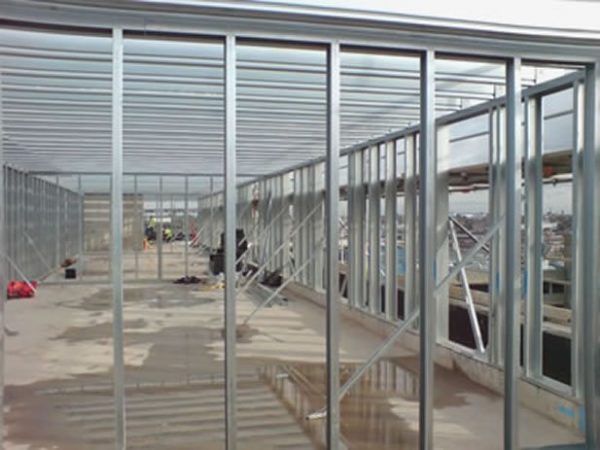 Steel Framing Systems (SFS) are becoming an increasingly popular method for construction for a number of reasons, and Taylor Hart's structural stud solution is helping firms to achieve the best build in the quickest time.
Steel Framing Systems is a versatile fast track building system manufactured from lightweight, cold roll formed galvanised steel sections which are screwed together on site.
The nature of SFS means it is versatile for designers and can be erected quickly when compared to more traditional methods. The lightweight frame also offers versatility.
SFS is also has a high strength to weight ratio, which means it uses less material than traditional methods. In addition, the steel sections are completely recyclable, which is an increasingly important factor as the government tightens the regulations around the lifetime environmental impact of buildings.
The steel used is dimensionally stable and does not shrink, which gives the construction high dimensional accuracy and long-term reliability.
Taylor Hart's expertise comes with the structural stud, which is located in head and base tracks spanning vertically within the main frame of the building and is used to hold the frame together. The size of the stud used, spacing and anchorage are all determined by floor-to-floor heights, deflection criteria and lateral wind pressures. The manufacturers of the SFS available provide Taylor Hart with invaluable assistance with design and calculation in order to develop a scheme.
Steel Framing Systems use Structural Stud from Taylor Hart
Structural stud is a relatively recent addition to Taylor Hart's product portfolio, but one that the company is fully committed to and has developed expertise in.
It demonstrates how the company is always looking to expand the range of products and services it provides to customers around the country and enhance its value and attractiveness to them. Since its formation in 1998, staff and managers have worked hard to develop the company's reputation for quality and service in all sectors it works in.
If you are interested in knowing more about structural stud, please contact us on 01676 522422. For information on the range of services and products we offer, including mineral fibre ceilings, partitions and drylinings, screeding and rendering visit our website.
Information on glass reinforced gypsum (GRG) can be found on our previous blog update.