Suspended ceilings
allow you to conceal pipes, ducts, electrical wiring and more, with the visible ceiling hiding any unsightly aspects of the structure. The ceiling void can also serve as an air plenum, which greatly aids ventilation and enables you to access pipework, wiring and ducting with ease, simply by removing one of the ceiling tiles.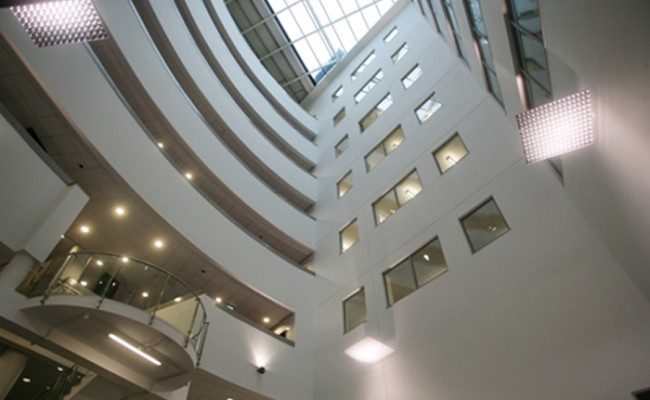 In practice, a steel grid is suspended from the structure, with acoustical tiles sitting in the squares of the grid, providing the ceiling surface. Lights, speakers and vents can also be situated in the squares, giving a uniform appearance at the same time as being functional. Many lights, air conditioning systems and sound setups are available in standard ceiling tile sizes, meaning you can easily install, move and remove these items as you wish — something which would not be possible with any other type of ceiling.
Suspended Ceilings- what are the Pros?
Suspended ceilings
are relatively affordable compared to other types of ceilings, and are quickly and easily installed, which makes them ideal for a number of purposes. If the room in which they're being installed already has quite a high ceiling, a suspended ceiling can give you an affordable, easily maintained ceiling without having to worry about the ceiling looking too low.
Taylor Hart are one of the region's leading suppliers and installers of suspended ceilings. We are strategically located in the West Midlands, which means we can access sites around the country with relative ease. Our commitment to quality is also evident, with ISO 9001, ISO 14001 and other accreditations, as well as a number of awards to our name.
If you would like to find out more about our suspended ceilings and the products and services we offer, please give us a call on 01676 522422. We'd be more than happy to answer any questions you might have and to help you decide whether a suspended ceiling from Taylor Hart might be best for you. Read our previous blog on screeding here.