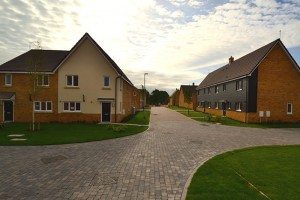 At Taylor Hart Limited, one of the UK's leading interiors construction, dry linings and partitions companies, we always strive to use the latest innovations and invest in training so our customers get the best finish possible. Using through coloured render is one way we achieve that.
Cost Effective
Rendering is the process of covering an exterior wall of a building with a layer of wet material that dries to form a protective layer. Exposed stone and and brick work is prone to erosion when left open to the elements. Rendering is a cost effective solution to counteracting the effect of the elements and protecting most types of masonry from moisture and the cold weather.
Grown In Popularity
Render is traditionally composed from a sand and cement mix. However, with advances in technology and changes in style and taste, different coloured render products such as through coloured render have grown in popularity.
What is Through Coloured Render?
Through coloured render is a sand, cement and lime based type of render containing White Portland cement with an added pigment, to give it its colour.
No Need For Painting
Its name refers to the fact that the pigment, and therefore the colour, runs throughout the material. The render mix itself is already coloured with the colour permeating all the way through. Unlike traditional sand and cement render mixes, there is no need to for it to be painted.
Colored render is a recent and popular development for several reasons.
Here are our top three reasons to use it on your next project:
Three Reasons Why You Should Consider Through Coloured Render On Your Next Building Project
1. Aesthetics
Firstly, this type of decorative render is aesthetically pleasing. A wide range of colour variations can be achieved as can a number of different finishes. Through coloured render can be scraped, scraped with Ashlar cuts, stone or textured.​​​​​​​ It's an increasingly popular finish on modern house builds, such as in the image below showing cream render applied to the house on the left:
​​​​​​​​​​​​​​
We recently applied some stunning Sto render.
2. Ease of Application
Through coloured render is supplied ready mixed and can be applied in a one coat finish. It can be applied to almost any type of masonry. Whilst the material costs of through coloured render can be higher than traditional sand and cement, its much lower associated labour and ongoing maintenance costs make it a very cost effective solution. Coloured render is virtually maintenance free and usually guaranteed for ten years by the manufacturers.
Cement and sand render is more labour intensive as there are more stages in the application process. It is normally mixed on site and requires 2-3 coats of application. First, one to two base coats need to be applied. Each of these are scored whilst still wet so that subsequent coats can adhere to them. A top layer is applied more thinly and given a shiny finish, ready for painting. In order to protect it and make it weather tight, traditional render has to be painted with a finishing coat of a proprietary external masonry paint.
3. Durability
The formulations of through coloured render tend to be have improved durability properties than traditional sand and cement. Whilst it is cheap on materials, sand and cement has a tendency to crack if the underlying structure moves.
Through coloured renders tend to have additional components added to their mix which improve their hardiness. Polymers or Acrylics are common additions. These increase the flexibility and extend the life of the render by making it less prone to cracking and, in some cases, making it self cleaning too.
Monocouche Renders
Monocouche Renders are a type of through coloured render originating in Europe that has become very popular in the UK. The white cement mix of Monocouche Renders is pre-coloured to a shade of your choice. Not only do they provide a decorative finish as well as a weatherproofing layer, they have an additive that makes them more flexible to help eliminate cracking. They can also be self-cleaning.
Sto is one such manufacturer of this type of render. As part of our work as drylining contractors for the University of Birmingham's new Sport Centre, we applied stunning Sto render.
Full Range Of Colours Available
Whatever type of render you prefer for your project, we have the skills and materials to provide it for you. We have a full range of colours from an extensive selection of manufacturers. If you're unsure, we can help advise you. With our renowned quality and expertise, you can rest assured you're in safe hands when you use Taylor Hart Limited.
Call Us
If you would like to enquire about our rendering services, please call us on 01676 522422 or via our contact page.
You may also like to read our previous blog on ceiling installation companies Birmingham.